Although it's only a mile and a half long, you can easily double the pleasure by re-tracing your steps at the end. The Chain Walk forms a side-loop to the tranquil, 90-mile Fife Coastal Path. The fun chained section – a kind of British via ferrata – hugs the sea from Elie village, careering round the cliffs of Kincraig Point to Shell Bay. Head for the beach below Elie then walk south-west to a sign telling you to take care. The glinting steel chain fixed to the cliffs signals the start of your scramble.
Together with footholds, a series of eight fixed chains 10 to 50 feet long provide something to cling to as you slither up, down, along and over alarming rocks while waves crash in from the Firth of Forth. Children aged nine and over can tackle this breathtaking route, which defies being termed a mere "walk". This is adventure. Stay away near high tide.
…. Equally exciting for children and a cracking complementary family adventure to tag on to a restful stay at Belcote Cottage or Beachend is ScotlandCampervans.com…
Luxury VW T6 Campervan hire for adventurers, holidays and escapes. Enjoy the wilderness of the outdoors in complete comfort. As a dedicated team of explorers and adventurers ourselves, we know what it takes to make a fantastic and memorable campervan holiday, and there's no hidden surprises, our campervan comes prepared with all essentials, including a blow up awning, sun awning, webasto heater, barbecue point, shower point and a bike rack for 4 adult bikes. Go to http://www.scotlandcampervans.com/
Comments Off

on Elie Chain Walk – Probably the most exciting walk in Britain for Children
|
Read More >>
20 Things To Do In The East Neuk For Artists
Whilst the East Neuk and surrounding areas have a reputation for amazing seafood and golf, there is also much more to the area.
Scotland has long had a strong arts heritage and culture, giving many peerless artists, poets and writers to the world. The almost Eden-like terrain, coupled with the tumultuous weather and history of Scotland has given rise to great artists in a number of disciplines.
If you want to explore this rich cultural heritage then the East Neuk and surrounding areas are the perfect place.
Art Breaks in Scotland – East Neuk – the Perfect Getaway for Art Lovers
Below, we will look at the best and most important destinations for artists visiting this glorious part of Scotland.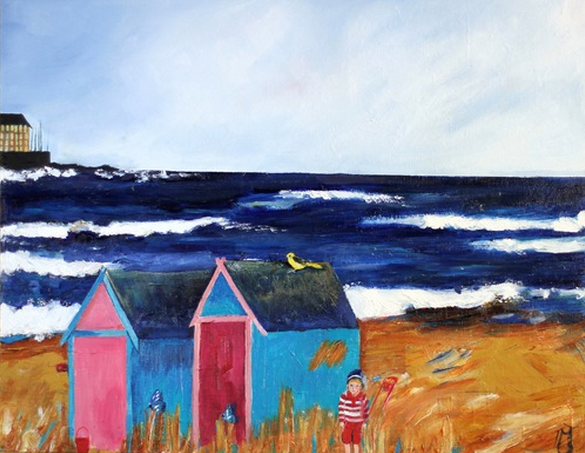 Fisher Studio and Gallery
In operation since 2000, Fisher Gallery exhibits contemporary works of well-established and newly graduated artists.
Exhibiting almost exclusively Scottish works, Fisher Studio pulls together work about local scenes and those inspired by living and working in Scotland.
Many of the artists on display have established reputations and are widely collected. Aside from these, you can take in works from fresh new talents.
Pittenweem Arts Festival
Running for a full week, Pittenweem Arts Festival shows works from artists at all levels and stages in their careers. From well-established artists to local artisans, the Pittenweem Festival throws open the doors to the rich arts scene of the area.
Offering an array of exhibitions, performances, workshops and more, there is something for everyone at the festival – with events for the kids too!
East Neuk Open Studios
An 'Art Trail', East Neuk Open Studios aims to provide a rich, full programme of over 35 artist and designer studios to explore and appreciate in the East Neuk.
Running in the summer (31st May – 1st June) and autumn (October 11-12th and 18 -19th) the red balloon trail leads visitors to a wide array of artist's workshops. Painting, textile, jewellery, illustrations, ceramics and photographs are just some of the works on display, with more waiting around every corner.
East Neuk Festival
Running from June 27th to July 7th, East Neuk Festival brings together multiple art forms – music, literature and visual art, to create a varied and fun festival atmosphere.
Originally focused on music, the festival has an array of performances of all genres that will satisfy all comers.
Making use of the cosy local venues, the East Neuk Festival also plays host to writers performing readings, films and discussions.
Tickets are in high demand so act quickly! Read the rest of this entry »
Comments Off

on Art Break in Scotland – 20 Things to do in East Neuk for Artists
|
Read More >>